Certifications
We at Finpower are proud to say that we are one of the most trusted and reliable Centralized Air Conditioning equipment manufacturers in UAE. With our unmatched quality products and service deliveries, our name is spread throughout the Middle Eastern & Asia region. The Eurovent Certification for Air Handling Units and AHRI Certification for Fan Coil Units are our strengths to meet the international standard and thus benefiting final end user with the best reliable product.
Eurovent Certification
Air Handling Units
All 50mm TB profile units are Eurovent Certified.
Fresh Air Handling Unit
All our Air Handling Units of 50 TB profile are Eurovent certified with heat recovery options. Our Air Handling Units are also tested for best mechanical performance.
AHRI Certification
Fan Coil Unit
Our Fan Coil Units are AHRI certified as per AHRI 440.
ADCE Certification
All our products below are registered with Abu Dhabi Commercial Engineering Services (ADCE):
Fresh Air H.U
Fan Coil Units
DX AC Units
Ecology Units
Electrostatic
ISO Certification
ISO 9001 Certification for Quality Standard
ISO 14001 Certification for Environmental Standard
ISO 45001 Certification for OHSMS Standard
 AMCA Certification
All our fans used for AHU, FAHU & Ecology units are AMCO certified.
ESMA Certification
We provide ESMA-certified Air Condensing Units as per the project requirement upon request.
SASO Certification
We provide SASO / SABER Certification for our products to be solding in KSA.
UL Certification
We are proud to inform you that; we are the best & the largest manufacturer of UL-certified heaters which can be installed in the duct or inside the equipment.
CE Mark Certification
We provide motors of AHU, FAHU & Ecology Unit with CE MARK standards.
EUROVENT CERTIFICATION
Eurovent certified air handling units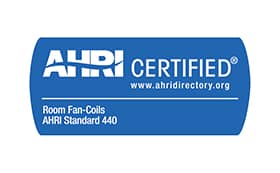 AHRI CERTIFICATION
AHRI certified room fan coils
AMCA CERTIFICATION
AMCA certified fans are provided as standard.
ESMA
ESMA certified condensing unit
SASO
SASO compliant condensing unit
UL CERTIFICATION
UL certified components including Air Filters and Duct Heaters are optional.
CE MARK
CE mark Motors as standard.